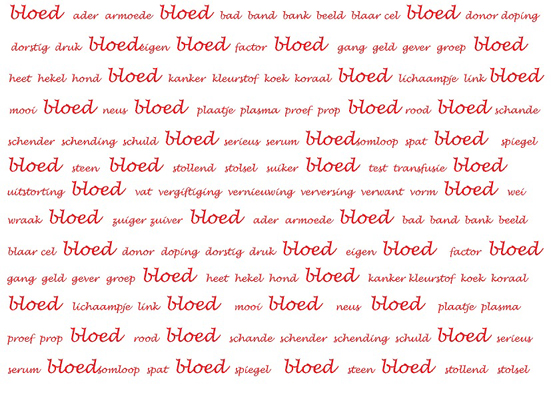 Landcommanderij Alden Biesen,
in cooperation with Gallery De Mijlpaal, Heusden-Zolder
05/07/2014 – 31/08/2014 group exhibition
participation with
_ bloed_stroom_
(_blood_flow_)
interactive light-installation
2 displays with words-play
10 glassplates 300 cm x 40 cm
2 filmprints
concept
for the entance space of the exposition "blood" I created a provisional environment with main topic observing or being observed
– two displays are hanging on the ceiling with the back to the entering visitor
– a number of overlapping glass plates are leaning against the opposite wall
The displays shows an animation of "blood"words:
A game of broken mirrored words arises in the glass-wall.
In first instance, the spectator is confronted with the mirrored images he is invited to move into the space between the two poles (displays and glasswall). His mirror image is mixed with the flow of words. The spectator is included in the work of art.